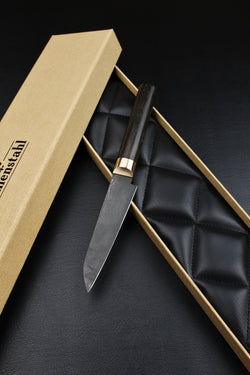 Black damascus Petty Bog Oak Oval Nr.4
395EUR
incl. VAT and free delivery
The pith rays of the thousand-year-old bog oak shine through the handle of the Petty. Only the smell betrays the natural and ecologically justifiable stabilisation with larch and spruce resin against moisture and odours.

The transversely satinized tin bronze forms the core between the San Mai 3LN blade and the East Style Oval handle designed as a real ferrule.


Handle made of european bog oak
damascus steel

Cushion made of tin bronze
Blade length: 112-115 mm
Blade hardness: 63 HRC
Blade height: 25 mm
Blade thickness: 2.2 to 2.3 mm
overall length of the handle: 115 mm 
Weight: 100g 


3-4 Days Deliverytime

Payment
The payment of your order can be done either by PayPal, credit card or by payment in advance.
Delivery
We deliver free of charge in Austria. Shipping costs for all other countries in the euopean union are 15 EUR. The shipping time within the EU is usually 3-4 business days.
Deliveries to countries outside the EU may incur customs duties, taxes and fees.If the ordered product should not be available against expectation in time, we inform you immediately. Errors are always reserved.
Return
Each Lilienstahl knife is unique and undergoes several extensive quality controls before it leaves our manufactory.
Should you nevertheless wish to return or exchange a product, please contact us in advance. You can return or exchange all Lilienstahl products that you have purchased in this online shop or ordered by email without giving reasons within 14 days of receipt of the goods.
The basic condition for taking back the goods and refunding the full purchase price is that the goods are returned complete and undamaged; products that have obviously been used and are therefore no longer saleable cannot be taken back and refunded.
In case of a return, please contact us in advance.
Only use the knife on a wooden or plastic cutting board.
Only use the back of the blade to remove the cuttings from the board.
Enjoy the sharpness and craftsmanship of the knife.
After use, wash the knife with lukewarm water. A little detergent is also recommended for the blade.
Dry the knife carefully with a cloth so that no moisture remains.
Knife lovers will also care the blade with a drop of camellia oil.
Place the knife in the storage box and look forward to the next use.